Butang and Tarutao
The name "Tarutao was derived from the Malay word for "old, mysterious and primitive", an appropriate name for these untouched wild islands, close to the Malaysian border.
In 1972, the Tarutao archipelago of 51 rugged, densely forested islands with pristine beaches was declared Thailand's first national park. In 1974, the park was extended to incorporate the Butang Group of another 61 islands.
Both groups of islands are predominantly uninhabited, and home to diverse wildlife, waterfalls, caves, viewpoints and beautiful isolated beaches. Most of these islands are inaccessible by any other means other than a yacht.
The most well known island is Koh Lipe, one of the few islands offering good value accommodation, with a few bars and restaurants for those of you who would like some contact with civilisation.
Special things to do
Relax on empty and unspoilt white sandy beaches, or explore the rugged wildlife inland. Trek through the rainforests, and follow the paths of others to secluded viewpoints. When the day is done, relax on the boat with a beer or glass of wine and watch the sunset turn to a starlit sky. Stop off at Koh Lipe and enjoy some of the freshest fish you'll ever taste, or take a dip in the emerald waters to admire the living reefs.
click on one of the tours below for itineraries:
5 DAY TOUR
koh muk, koh kradan & koh ngai
visit the "emerald cave" - enjoy stunning beaches - observe monkeys, lizards and migrating birds - swim, snorkel and relax
• Butang & tarutao
sail around the uninhabited islands - enjoy unspoilt beaches, undisturbed wildlife, and pristine coral reefs - stop over at one of Koh Lipe's cozy beach bars
• KOH ROK
sail south to the pristine islands of koh rok - enjoy the uninhabited white beaches - snorkel the extended coral reefs - visit the ranger station and the monitor lezards - swim, enjoy, relax - we organize honeymoon overnights at the romantic anchorage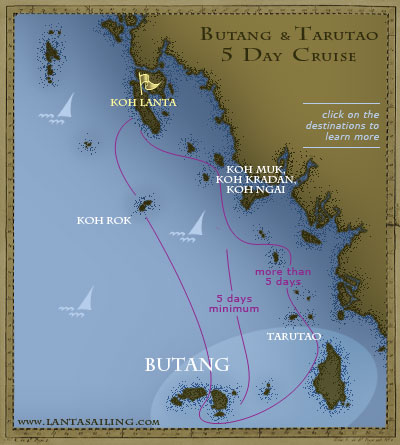 the full charter for the 5 day trip
costs from 65.000 thb *
* extra costs may apply for rendezvous scuba diving, hiring kayaks, honeymoon packages, special supplies, yacht positioning, and hotel/airport transfers.